Meet Our Ministers
Bishop James and Prophetess Emily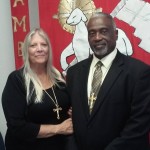 Bishop James gave his life to the Lord Jesus Christ in the year 2000. Bishop James started serving God's purpose while working with Pastor George Crisp at Angels Recovery Church in 2002. He met his wife, Emily, while he was working with Pastor Crisp. Emily was also serving in ministry at Jubilee Christian Center. James and Emily were
married in 2004. While working together in ministry, they were both ordained as Pastors shortly thereafter. Pastor James was then called to serve in ministry with Sold Out 4 Christ Ministries under the leadership of Pastor Archie Lee Kelly. After serving with Pastor Kelly, God called the Pastors to start Austin Love Ministries church which began as a weekly bible study. Bishop James and Prophetess Emily were later ordained as Bishop and Prophetess under the anointing of Apostle Elijah Holland of God's Power in Christian Fellowship. Bishop James and Prophetess Emily have worked very hard to establish the ministry and are "passing the torch" of pastoral duties to Pastor Corey and Alicia.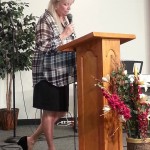 After spending more than 12 years, living a life of sin, pain, and depression Pastor Emily Cunningham accepted an invitation to attend a Wednesday night bible study in 1996. She was visited by the Holy Spirit during that service.bible study in their own home. Pastor James has a special way of teaching the word of God so that all can understand and come to the knowledge of Jesus Christ.
When Jesus called her to the altar, she accepted. God miraculously healed her of all sickness and disease. Pastor Emily is an evangelist at heart and enjoys assisting her husband in ministry as well as preaching and teaching the gospel of Jesus Christ.
Pastor Corey Jones
Pastor Corey Jones is a graduate of Texas Lutheran University, where he obtained his Bachelor's of Science degree. Pastor Corey served as a minister at Austin Love Ministries for 8 years until he was promoted to Pastor in 2016. Pastor Corey is married to Alicia Jones and is a father of two. His wife Alicia Jo
nes serves as co-pastor and minister of Music  at Austin Love Ministries. Pastor Corey's mission is to save the lost and disciple the saved. Pastor Corey has an extensive background in social work. He has worked in the juvenile justice system, foster care system and for non-profit organizations to help decrease pregnancy and STI's among teenagers. Pastor Corey provides spiritual and marriage counseling. He is also writing a book entitled "Surviving the Christian Marriage, A Quick guide to Marital Bliss." Pastor Corey is a motivational speaker and has spoken at numerous conferences across the United States. Pastor Corey has a heart for all those he comes into contact with and he wants to lead as many people as he can to Jesus Christ.
Pastor Alicia Jones
Pastor Alicia Jones began actively seeking and serving God at a very young age using her gift of singing. In 2008, Pastor Alicia successfully graduated from Texas Lutheran University, where she obtained a Bachel
or's Degree in Psychology. Pastor Alicia completed her Master's Degree in Counseling  at St. Edwards University because of a great passion she has for working with people.  Pastor Alicia has worked with youth dealing with teenage pregnancy, children in foster care and families recovering from abuse and displacement.  Pastor Alicia made a commitment to God to work and serve at Austin Love Ministries and was ordained as a Pastor in 2016.  She is the Minister of Music, helps in the church administration and wife to Pastor Corey Jones.  Her mission is to help save the lost and advance the Kingdom of God.
Minister Crystal Mena
Crystal has been a part of Austin Love Ministries since 2014 and has served in ministry since childhood. She first answered the call of ministry at the age of 12 and has been running ever since. She is a microbiologist who also enjoys artistic flair and has formed the
Anointed Expressions Mime ministry. Crystal is passionate about connecting people to God and others through everyday life.  She has the natural ability to bring joy and laughter into very room she enters.  Her friendly smile is the first thing you will see when you come into the doors of the church. She married her high school sweetheart, Joseph , and they have a daughter Angela who is just as loving as her mother. Crystal's "show you love" mentality is appreciated and part of the Austin Love characteristic.
Ministers Jonathon and Emma Hernandez
Meet the Austin Love Ministries Staff and Support Members »
<iframe width="560″ height="315″ src="https://www.youtube.com/embed/5ID-fwqlz_0″ frameborder="0″ allowfullscreen></iframe>